It is just about time for Apple's (AAPL) iPhone refresh – 2018 edition. According to the most current "guesstimates", the Cupertino-based company is likely to unveil three new smartphone models (see graph below) on or around September 12th, with media invitations for the launch event coming out as recently as next week.
There is no doubt that Apple's key product refresh is a hotly-debated topic among tech enthusiast. But as an AAPL shareholder, I am more interested in how much the upcoming iPhone line-up may impact, positively or negatively, the investment thesis.Image credit: MacRumors and KGI Research
I start this discussion by pointing out that the 2017 product refresh seems to have been one of Apple's most successful moves since the introduction of the iPhone in 2007, at least from a financial impact perspective. Very likely aided by a robust macroeconomic environment, iPhone revenues have been increasing YOY at an impressive average pace of 16% over the past three quarters, following a fiscal 2017 that saw growth stall in the low-single-digit range.
While a soft Chinese market, primarily a result of struggles in Hong Kong, may in part explain lack of traction last year, I side with research firm Kantar Worldpanel on the root cause for this fiscal year's overwhelming success: "Apple's unprecedented depth across the price spectrum of its smartphones". The company currently offers devices priced as low as $349, appealing to a price-sensitive crowd and to certain demographic groups in emerging markets, to as high as $1,149, primarily geared towards a more affluent consumer base.
Over the past three quarters, Apple did not leave much money on the table, reaching out to nearly the whole spectrum of smartphone users across the globe. This "all-devices-to-all-people" approach is, in my opinion, what has sparked a revival in Apple's once out-of-favor iPads. The strategy seems to have worked for tablets, for desktops and laptops, and is now boosting smartphones sales as well.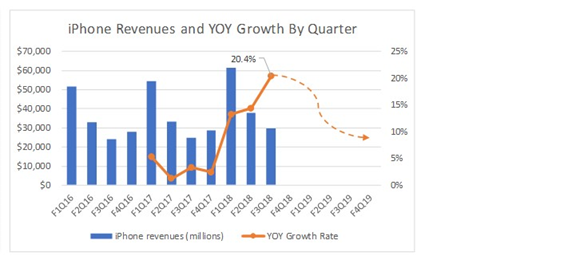 Source: DM Martins Research estimate, using data from company reports
While this has been good news for Apple in fiscal 2018, the bar has now been raised. Growing unit shipment above and beyond what Apple has been able to do this year will become an increasingly difficult task, in my view. I find it highly unlikely that Apple's new smartphone lineup, possibly priced at similar levels as current devices, will tap into previously under-explored markets, which I believe was the case last year. As comps become much tougher in fiscal 1Q19 (i.e. starting in the holiday season), I project iPhone revenue growth slowing down from an impressive 20.4% last quarter to a more sustainable high-single digit range by the end of 2019 (see graph above, the dotted line is my estimated future trend).
I may prove to be overly conservative on my projections if Apple's upcoming mid-range device, allegedly a $700-800 product equipped with edge-to-edge, 6.1-inch LCD screen, incentivizes a large number of iPhone 8, 7, and 6s users to upgrade their hardware without the $1,000-plus commitment that the current iPhone X demands. In my opinion, such consumer reaction is plausible, although betting on it seems speculative.
On ASP, I believe average smartphone prices will remain robust for as long as the strong global economy continues to support a product mix that leans towards higher-end devices. This is certainly a risky assumption, as I believe the discretionary nature of Apple's business significantly exposes the company to an eventual deterioration in macro fundamentals that, in my opinion, is more a matter of "when" than "if". But absent clear evidence that the tides could turn anytime soon, I believe pricing power will be protected.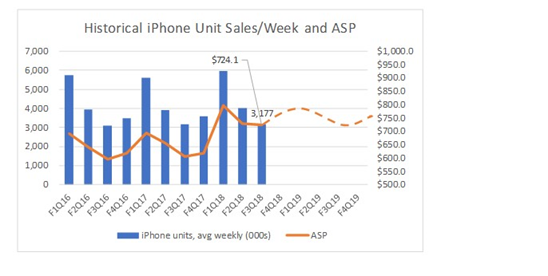 Final thoughts
In conclusion, I believe Apple's 2018 iPhone refresh cycle, expected to take place within a month, will be less impactful to the company's near-to-mid-term financial results than the 2017 version was. Supporting my convictions is a perceived lack of untapped consumer markets that I believe Apple was very successful at reaching out to last year. As comps become tougher, I believe growth in iPhone devices sold will normalize well below the current 20% rate, with average prices stabilizing in the $700-plus range vs. fiscal 2017's average of $643.
That said, and considering my long-term bullishness on the company and the stock, I am not overly concerned about growth deceleration in smartphone revenues over the next few quarters, should it happen per my expectations. Instead, I am mostly excited about Apple's opportunities in monetizing its current installed base that continues to increase at a brisk pace, primarily through the sale of services that I project will account for most of Apple's op profits by 2027.
Note from the author: I have recently added AAPL to my list of strong buys. To learn more about other names that pass my high-conviction criteria, I invite you to join my Storm-Resistant Growth community and take advantage of the 14-day free trial while it lasts. By doing so, you can also help me build a risk-diversified portfolio designed to generate market-like returns with lower risk.
Disclosure: I am/we are long AAPL.
I wrote this article myself, and it expresses my own opinions. I am not receiving compensation for it (other than from Seeking Alpha). I have no business relationship with any company whose stock is mentioned in this article.