Ho ho ho, it's December already! There isn't much news to talk about over the past week, though, news are getting quieter by the days and all we got was just some rumours here and there about next year's smartphone. Well, okay, there are two products which look pretty cool – the DJI Osmo Pocket and Nubia Red Magic Mars gaming smartphone.
Just when you thought the current Osmo mobile gimbal handheld device is already an ingenius creation, DJI decided to do something more amazing. The Osmo Pocket is as small as it looks and perfect for those who often go an adventure. One of the best things about it is that the small camera is able to capture great images and videos (according to the video teaser), as well as accompanied by a 3-axis stabilizer mechanism that gets rid of shakiness. Converting from its USA pricing, it's around ~RM1463 in our local currency and this is a really good deal. 
On the other hand, Nubia may have just made the perfect gaming smartphone (on paper) because the Red Magic Mars features a Qualcomm Snapdragon 845 chipet, memory capacity up to 10GB of RAM and 256Gb storage, a 6-inches display in 1080p, 3800mAh battery pack, a dual heat pipe and convection cooling system called ICE, and even has an RGB LED strip behind along with Mars Triggers which serve as an additional buttons for gamers. All in all, it's pretty much like the ROG Phone which we love. The starting price is ~RM1932 but we aren't sure if the Red Magic Mars can take off in Malaysia, as Nubia is not really popular here, but maybe it will do well in China. 
Anyway, onward to this week's NewsBytes!
New Logitech M238 MARVEL Collection
If you're a Marvel fanboy, you might want to consider Logitech's newest M238 MARVEL Wireless Collection. There are four versions of it and cost RM89 each which comprises of Captain America, Iron Man, Black Panther or Spider-Man. The M238 Wireless Mouse is compatible with Microsoft Windows, Mac, Chrome OS and Linux, and the nano USB receiver lets you roam from up to 33 feet away. It's said to be able to last up 12 months of usage.
Sony introduces next-level Noise Cancellation with the WH-1000XM3 Headphone
Another new gadget that tech fans (particularly the audiophiles) should get excited is the Sony WH-1000XM3 Headphones. It's the third generation noise cancelling headgear and it's now available from Sony Stores and authorized retailers for RM1599.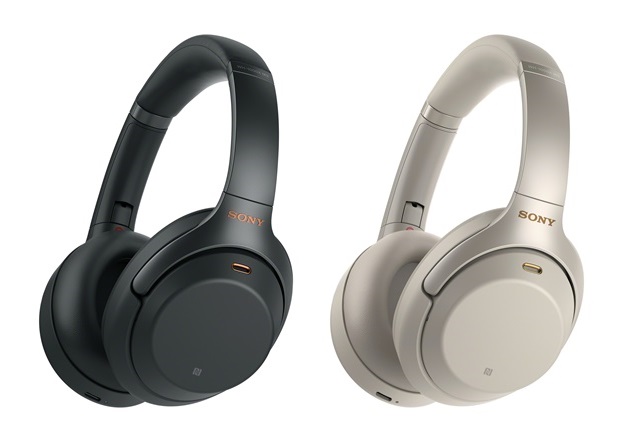 So what are the improvements? Well, the 1000XM3 features a newly developed HD Noise Cancelling Processor QN1, which has approximately four times greater performance than the previous processor, as well as negating daily background sounds, such as street noise and human voices. It also features Dual Noise Sensor technology that captures ambient noise with dual microphones and then passes the sound data to the processor to cancel the noise.
You can also bet that its sound quality is good coming from Sony, but most importantly, the third generation WH still allows you to detect your physical situation and adjusts to changes with Adaptive Sound Control, to hear ambient sounds when travelling, as well as listening to your surroundings with Quick Attention which has been the trademark of the series. You can find out more about it over here.
Mah Sing & Lazada Malaysia to sell homes online on 12.12
Some of you have probably heard of this news already, but it's true – Mah Sing Group Berhad and Lazada Malaysia will be working together and make home online purchase a reality for the first time ever on the upcoming 12.12. Held at Ruyi & Lyn in Bangsar Shopping Centre, it was officiated by Datuk Ho Hon Sang, Mah Sing Group's Chief Executive Officer and Christophe Lejeune, Chief Executive Officer, Lazada Malaysia, and witnessed by Yang Berhormat Tan Kok Wai, Malaysian Prime Minister's Special Envoy to China and Tan Sri Dato' Sri Leong Hoy Kum, Mah Sing's Group Managing Director.
So how does this work? According to the press conference, those who shop for Mah Sing properties on Lazada will receive an exclusive 5% Lazada Incentive, worth between RM20,000-RM30,00 on a first-come-first-serve basis. Mah Sing projects that will be listed on Lazada for 12.12 include M Vertica, Cheras; M Centura, Sentul; Sensa [email protected] City, KL South; M Aruna, Rawang; M Vista, Penang; and Meridin East, Johor. Interested buyers can preview homes beginning 28 November 2018 and can add to cart and purchase from 10 to 12 December 2018.
Furthermore, interested buyers are also encouraged to contact their banks to check for loan eligibility before booking their unit on the Mah Sing Flagship Store on LazMall during the campaign period. Booking fees are fully refundable if the homebuyer decides not to proceed with the purchase. Once the unit selection, documentation and loan application are finalised, buyers can sign their Sales and Purchase Agreement (SPA) and the new home is theirs.
Realme Malaysia started its first Image Store Grand Opening in Sunway Pyramid
Then on 24 November 2018, IT Gadgets, Vivid Telecommunication Sdn Bhd., celebrated its Realme Image Store Grand Opening in Sunway Pyramid Shopping Mall, as well as starting the first offline sales of Realme 2 Pro at the same day.
Initially only available via online sites such as Shopee and Lazada, fans excitedly tested and purchased their Realme smartphones at the 500 authorized locations that offered the devices in-store across Malaysia. The following Realme smartphones at the following prices are:
Realme 2 Pro:
– 4GB RAM + 64GB ROM – RM849
– 6GB RAM + 64GB ROM – RM949
– 8GB RAM + 128GB ROM – RM1099
Realme 2:
– 3GB RAM + 32GB ROM – RM599
– 4GB RAM + 64GB ROM – RM699
Realme C1:
– 2GB RAM + 16GB ROM – RM449
Shopee Seller Awards
Yang Berbahagia Datuk Muez bin Abd Aziz, Deputy Secretary General of Consumerism and Management [Second from left] together with Mr. Chew Soi Ping, Executive Director, Sales Nestle Malaysia Berhad [first from left], Mr. Joshua Zhu, Head of E-commerce & NDG Nestle Malaysia Berhad [third from left] and Mr Ian Ho, Regional Managing Director of Shopee [fourth from left] taking away the Shopee Seller of the Year Award for Shopee Mall Category
Meanwhile, Shopee hosted a Shopee Seller Awards 2018 recently on 24 November 2018 with the attendance of YB Datuk Muez bin Abd Aziz, Deputy Secretary General of Consumerism and Management, Group Chief Corporate Officer, Pos Laju, and celebrities such as Nora Danish and Zoey Rahman. The ceremony was to thank sellers, brands, and partners for the tremendous success of Shopee 11.11 Big Sale. 
A total of 14 accolades were given out at Shopee Seller Awards 2018 to honour the best sellers across various store categories. Nestlé and Mono Digital were the biggest winners on the night, taking home the Shopee Seller of the Year Award for Mall and Marketplace respectively. Dato' Sri Siti Nurhaliza also won the People's Celebrity Award, named by Shopee users for her official store SimplySiti on Shopee Celebrity Squad. Below is the complete list of winners:
| Award | Award Type | Winner |
| --- | --- | --- |
| Best in Lifestyle | Shopee Marketplace | Odoso |
| Best in Lifestyle | Shopee Mall | MR DIY |
| Best in Fashion | Shopee Marketplace | Grimo |
| Best in Fashion | Shopee Mall | VOIR |
| Best in Consumer Goods | Shopee Marketplace | Wako |
| Best in Consumer Goods | Shopee Mall | Watson |
| Best in Electronics | Shopee Marketplace | iBeli |
| Best in Electronics | Shopee Mall | Honor Malaysia |
| Best in Lifestyle | Shopee Marketplace | BHP |
| Best in Telecommunication | Partners | Digi |
| Best in Financial Services | Partners | FPX |
| People's Celebrity Award | Partners | Dato' Sri Siti Nurhaliza |
| Seller of the Year | Shopee Marketplace | Mono Digital |
| Seller of the Year | Shopee Mall | Nestlé |
'One Canon, One Tree' campaign
MBSA presents a plaque of appreciation to Canon for their continued efforts in greening Shah Alam through the One Canon One Tree initiative in support of the Shah Alam Trees for Life programme. (From left) Papparaidu Veraman, Chairman of Shah Alam Trees for Life programme, Chris Martin, President & COO, Canon Mailcom Malaysia, Andrew Koh, President and CEO of Canon Marketing Malaysia, Haji Rosli Bakar, Deputy Secretary of MBSA, Kamarudzaman Sanusi, Council Member of MBSA
On the community service news, Canon Marketing Malaysia Sdn. Bhd. carried out its 'One Canon One Tree' greening initiative over the weekend at the Kawasan Hijau Seksyen 4 area of Taman Tasik Shah Alam. This marks its third consecutive year in partnership with Shah Alam City Council (MBSA) brought the total number of trees planted by Canon to over 6,000 over the last three years in Shah Alam neighbourhoods.
The 'One Canon One Tree' initiative is part of Canon's commitment in creating a greener environment for the community and is also in line with MBSA's 'Shah Alam Trees Life 2018' programme which aims to make Shah Alam into a greener city and work towards achieving a Low Carbon City status.
Malaysian Students Won First Place in Team and Individual Challenge Categories in the 8th Global IT Challenge for Youth with Disabilities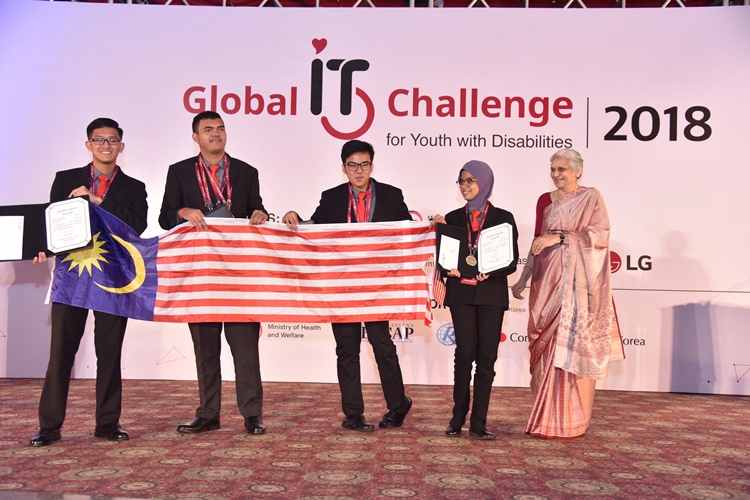 Elsewhere in India, LG Electronics partnered up with Rehabilitation International Korea (RI Korea) to host the 8th Global IT Challenge for Youth with Disabilities, from 9 – 11 November at The Ashok Hotel in New Delhi. The event, co-hosted by Korea's Ministry of Health and Welfare and India's Ministry of Social Justice and Empowerment drew participation across 18 countries, including the United Kingdom, United Arab Emirates and Kyrgyzstan.
Okay, so what? Well, Malaysian students have emerged first place winners in the e-Contents Challenge! They are Haris Ezani, Shahzan Ny bin Solihin, Noufah binti Abdullah Hajibilang and Mohammad Nizamudin bin Ismail. Securing first place in the e-Tool Challenge, under the individual category is Mohammad Nizamudin bin Ismail. So congratulations!
Western Union Mobile App and westernunion.com Now Live in Malaysia
Western Union has launched online money transfers in Malaysia via the Western Union mobile app and westernunion.com. If you're one frequent traveller, this can really help you in your spending overseas with a few clicks, 24/7, to almost anywhere in the world.
On top of that, Western Union has announced a launch transfer fee of RM0.99 per transaction for sending through the Western Union mobile app and westernunion.com. Customers can send up to RM3000 per day and fund their transactions online from their local internet banking accounts with FPX (Financial Process Exchange) participating banks. For more information, you may head over to the official website right here.
A new DirectX Raytracing benchmark – 3DMark Port Royal
Finally, there will be a new benchmark for gamers in 3DMark and it will be called Port Royal. Port Royal will be the world's first dedicated real-time ray tracing benchmark, as a test to compare any graphics card that supports Microsoft DirectX Raytracing. It's set to schedule on January 2019 but no release date nor price are made publicly yet.
Developed with input from AMD, Intel, NVIDIA, and other leading technology companies, Port Royal uses DirectX Raytracing to enhance reflections, shadows, and other effects that are difficult to achieve with traditional rendering techniques. This is particularly useful in upcoming games that are running at 2560 × 1440 resolution. You can check out the official teaser page about it here.
That's all, folks! Stay tuned for more NewsBytes at TechNave.com.