The young, naked napalm girl who is the subject of one of the Vietnam War's most iconic photos will speak in Madison next month with the man who photographed her in 1972.
Kim Phúc, 56, will speak at the Pyle Center, 702 Langdon St., on June 8 at 5:30 p.m. The photographer, Nick Ut, will also be there to speak about his Pulitzer-prize photo.
Phúc, who now lives in Toronto, was photographed at age 9 fleeing a napalm bombing that left her severely burned. Ut, who retired in 2017 after a 51-year career with the Associated Press, snapped the photo on June 8, 1972. He was 20.
"I want to let people know how beautiful (the) world can be if people can learn to live with love and hope and forgiveness," Phúc said in an interview with the Wisconsin State Journal. "The challenge for everyone is if the little girl in the picture can do that, everyone can. Every day we have opportunity to be better friends, better people. We can make a difference."
The event — to be held 47 years to the day after Ut took Phúc's photo — marks her first time speaking in Wisconsin, according to the Children's Library International.
The nonprofit organization, a main sponsor of the "Celebration of Peace and Mindfulness" event, raises money to build libraries across the world. The event is free to the public, though donations are accepted. Proceeds go toward the construction of a children's library in Phúc's former village.
The two often try to celebrate the June 8 anniversary together and have become close friends over the years. Ut, now 68, traveled to Canada just a few weeks ago to visit her, he said in an interview. 
Phúc will sign copies of her 2017 book, "Fire Road: The Napalm Girl's Journey through the Horrors of War to Faith, Forgiveness and Peace," that will be available for purchase.
The book describes how a South Vietnamese plane roared over her village, dropping napalm from above. Phúc ripped off her burning clothes and ran down a highway, straight into Ut's shot.
With nearly a third of her body burned, Phúc lost consciousness and Ut drove her to a hospital. Staff there told Ut she was too far gone to help, but he demanded she be treated. 
"He saved my life," she said.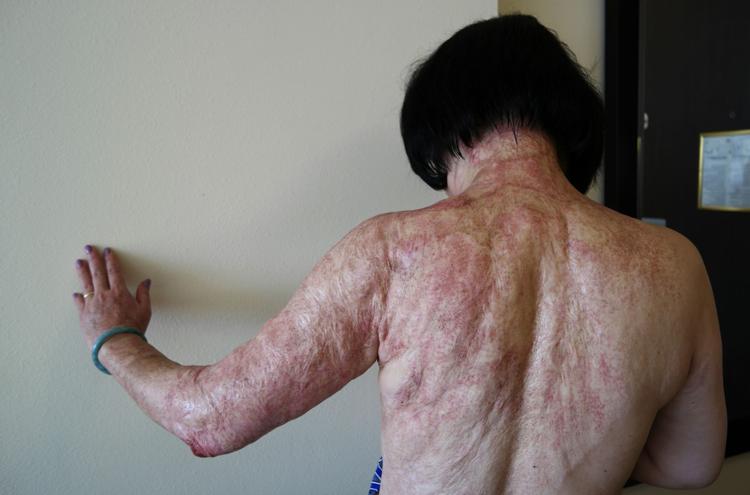 Phúc returned home to Trang Bang, her small Vietnamese village, after 14 months in the hospital undergoing excruciating skin grafts and surgeries. Her father handed her a clipping of the photo from a Vietnamese newspaper. 
"I was really embarrassed," Phúc remembered of the first time she saw her photo. "I wished that picture (was) not taken in that moment. It's ugly and I am naked and crying."
It took years, not until she held her own child in her arms, that she said she recognized the power of her photo and how it can be used to protect children from suffering.
An Associated Press account of the decision to publish says that the image was "unprecedented" for the news wire because of the agency's policy against nudity. Ut's colleagues determined the photo's news value overrode their policy and it was widely distributed.
Ut said he knew he had something special when he took the photo.
UW-Madison history professor Alfred McCoy, who specializes in Southeast Asia, said "Napalm Girl," as the photo has come to be known, is one of the most important of the millions taken by photographers during the Vietnam War.
For 30 years, U.S. military forces used in combat white phosphorus and napalm, a gasoline thickened with additives that stick to the skin as it burns.
But within little more than a decade of Ut's photo, the United Nations banned the use of incendiary weapons, a timeline McCoy called "amazing hyperspeed" for an international convention.
"Why did people look at that photo and feel horror?" he said. "Anyone who looks at that photo can look at it and feel our own skin being burned. It's one of those things that really validates the power of photojournalism as a force for change. The accidental meeting of those two, the power it had, not just in their lives, but in all of ours — it's extraordinary."
The U.S. was one of the last to ratify the ban, on Jan. 21, 2009, about 26 years after the international community had already ratified the treaty, McCoy said.
Phúc's talk has some local tie-in. Anti-war protests began when hundreds of UW-Madison students staged a sit-in protesting job recruiting on campus by Dow Chemical, which manufactured napalm for the Vietnam War.
Children's Library International plans to host other events with Phúc across Wisconsin in the coming months, volunteer Glenn Diedrich said.
UW-Madison's Center for Southeast Asian Studies is also a main sponsor.
Madison Public Library, a co-sponsor, will host a book discussion on Phúc's "Fire Road" on June 1 at 2 p.m. at its Sequoya library on 4340 Tokay Blvd. The Pyle Center and the Wisconsin Department of Public Instruction are also co-sponsors.