The market share for mobile operating systems is dominated by Android and iOS.
Are there even other contenders out there? The answer is… yes and no. While there are other mobile operating systems available, you'd be hard pressed to find a device that runs on one.
A mobile operating system (OS) is the software that allows mobile devices like phones, tablets and other smart devices like wearable technology to run applications and other programs. Most mobile operating systems only work on specific hardware. For example, an iPhone runs on iOS and a Google Pixel runs on Android.
What are the different operating systems for mobile phones?
Android (Google)
iOS (Apple)
Bada (Samsung)
Blackberry OS (Research in Motion)
Windows OS (Microsoft)
Symbian OS (Nokia)
Tizen (Samsung)
So, back to the first point. How many people do you know have a Windows phone? How about a Blackberry? Exactly. Now, Samsung is the outlier here, but it's a little misleading. Most Samsung smartphones, such as the Galaxy branded devices, actually run on Android. Bada was discontinued in 2013, when Samsung developers merged it with the Tizen project. Tizen runs on Samsung Z phones, smartwatches, cameras, and other smart devices like refrigerators. Yes, you read that correctly.
The two biggest mobile operating systems are Android and iOS, with a combined 98.7% of the market share in the United States. Android has a slightly larger user base which is largely attributed to its availability on devices from a variety of manufacturers including HTC, LG, Motorola, Samsung, and more. On the other hand, iOS only runs on Apple products.
Android vs. iOS
Google had a head start on Apple, with Android first released in 2008. Known then as "Astro", it went through a ton of updates to "Cupcake," "Donut," "Eclair," "Froyo," etc. See a pattern here? Android developers made the update codenames confectionary-themed, in alphabetical order of course. The latest update to Pie, aka Android 9.0, was released in 2018.
iOS 1.0, internally called "Alpine," was first released in 2011 with the first iPhone. Apple doesn't use public codenames for iOS as it does for macOS, but don't worry they still exist within the company – named after ski resorts like "Big Bear" and Telluride." The latest update to iOS 12, or "Peace," was released in 2018.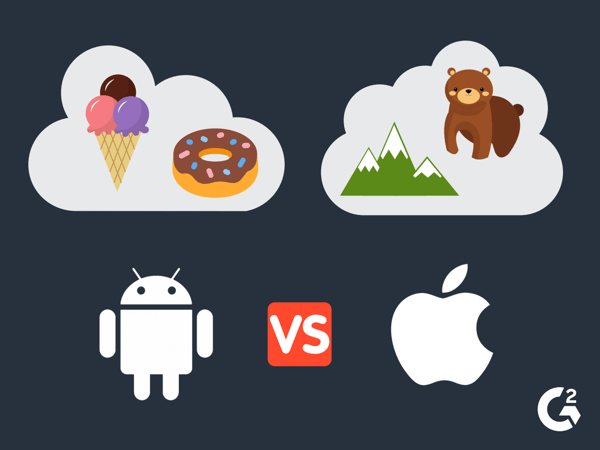 Which is the best operating system for mobile?
The various mobile operating systems have different strengths, so you have to figure out what matters most to you. As a user, if you are looking for advanced customization options, Android might be the way to go. If you own a Mac, iPad, or Apple Watch – or all three – iOS is great for compatibility across devices.
As far as app availability goes, the platforms are fairly similar with 2.6 million and 2.2 million apps in the Google Play Store and Apple App Store respectively. However, app development for more than one operating system can get tricky as it typically requires multiple builds.
iOS apps
iOS app development requires a specific set of tools to help programmers build applications for Apple devices like iPhone, iPad, and iPod touch. However, with the recently announced update to iOS 13 iPads will no longer run on iOS. Instead, there will be a dedicated iPadOS, similar to the separate watchOS and tvOS. It's important to keep in mind that iOS developers do have to think about many different models that are currently used when building apps with advanced features.
TIP: If you're interested in building apps for Apple devices, we've put together these iOS development tips from professional developers.
Android apps
Building apps for Android app development is a little different because programmers have to consider the differences in hardware. In general, software development is increasingly hard when mixed and matched with hardware. Take screen size for example – think about how many screen sizes there are across Androids.
Cross-platform apps
The best apps are typically built twice, once for iOS and once for Android. But there are instances where cross-platform mobile development makes sense. Depending on the apps' features, developers might be able to write one program and run it on both, or many, operating systems.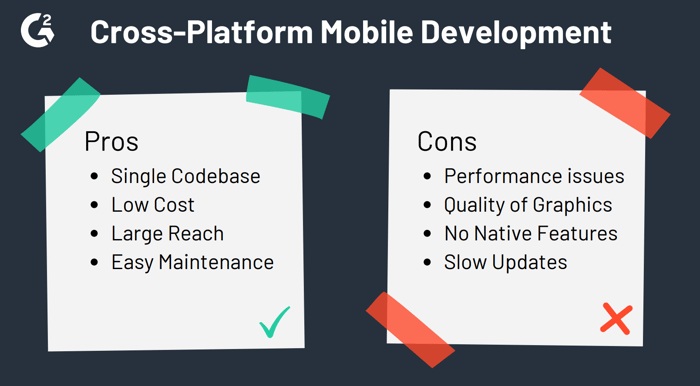 Choose the right mobile OS for you
Mobile operating systems are just a small portion of the total landscape. Learn more about operating systems in general, including head-to-head comparisons of some of the biggest players in the space like Windows, Apple, and Google.