A few years ago, Aaron S. Hall decided to slow down with his photography to see what developed.
What he found is that in these days of selfies being shared in the flash of a thumb swipe, he's become a curiosity as he puts his fingers on the pause button on part of our digital world.
To have your photo taken by Mr. Hall is to slow down. Also, don't move and please, hold that smile. And while you're at it, take a moment of reflection to enjoy that natural light shining on you.
Mr. Hall specializes handmade vintage photos — those tintypes and ambrotypes popular in the 19th century. It's also called the wet collodion process.
It involves using a photographic plate coated with iodized collodion and dipped in a silver nitrate solution immediately before taking it to the camera, where an image in captured on the plate. The plate is then rushed to a portable darkroom for development.
Mr. Hall captures his subjects on glass (ambrotypes) and aluminum ("tintypes") plates. Finished products have an eerie, retro, attractive look when compared to today's high definition photos seen on our screens.
The results are also tangible; something solid that subjects can hold onto and display. That's the part that especially attracts Mr. Hall to the "wet plate" technique.
"There's not a million copies," Mr. Hall said at his Dexter home as he demonstrated the wet plate steps. "It's not something on a disc somewhere that's going to get lost. It's going to be around for hundreds of years. I take that photo of you — that same light that bounced off you — that's what makes the photo. You are part of it. Old tin types from the 1850s look like the day they were made because they were kept indoors."
Mr. Hall will be one of the exhibitors at the fifth annual History and Genealogy Fair Saturday at the Jefferson County Historical Society.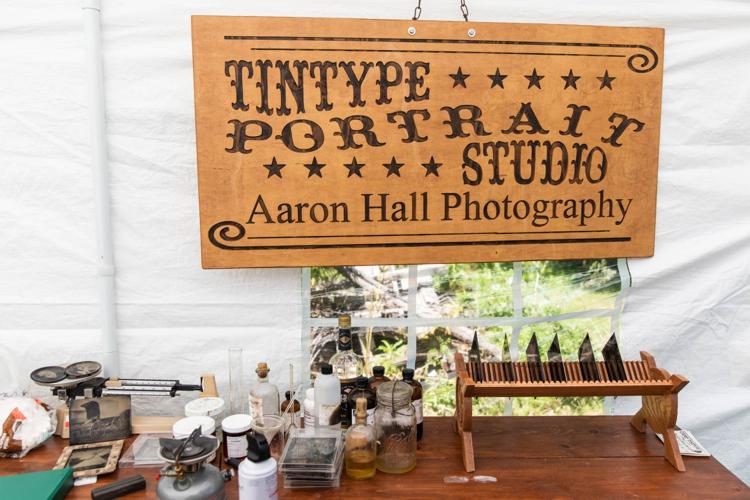 Mr. Hall has taken his portable wet plate photo studio and darkroom to other events, such as this year's Jefferson County and St. Lawrence County fairs. Those visits often involved explanations to people about what he actually does with his equipment.
"I get a lot of misunderstandings," Mr. Hall said. "A lot of people go, 'What do I do? Send you a photo and you print it?' Or they say, 'Ya, I had old time photos done at Disney World.' They are confusing it with where people are dressing up and taking a digital photo and adding some sort of filter to it. Almost to everybody, I'm trying to explain, 'No. I'm actually doing this like they did in the 19th century.'"
Mr. Hall, who has previously worked in jobs ranging from construction to a heavy equipment operator at a rock quarry, was first attracted to photography about a decade ago. He got a camera and took some online photography classes. He was especially enamored by Photoshop techniques.
He then worked for Penny Heath of Heath Photography, Redwood, for about three years and where he lost his interest in Photoshop.
"I learned a lot from her," Mr. Hall said, adding that he still occasionally works for Ms. Heath. He also does the occasional wedding and other event photography.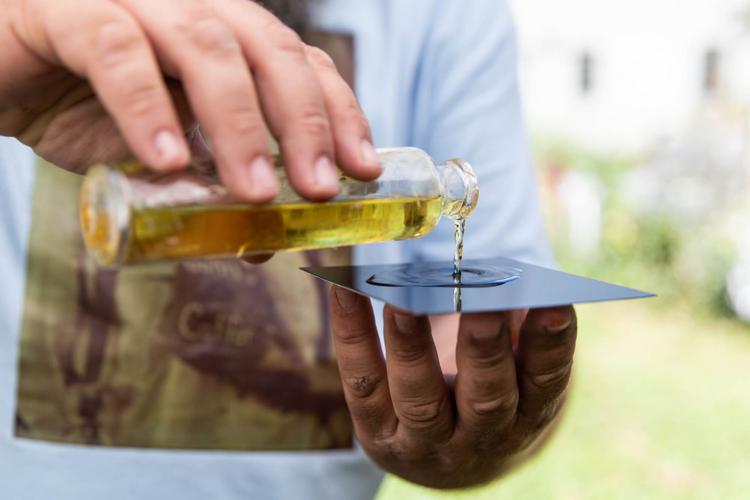 One day Mr. Hall saw that renowned American photographer Sally Mann was working with the wet-collodion process.
"That stayed in back of my head for a long time," Mr. Hall said. "It wasn't until about 2014 that I decided I was going to figure out how to do it. I spent the whole summer trying to do it and getting terrible results. And then I kind of put everything away until last year."
A workshop he took last year revived his interest and vastly sharpened his technique.
The workshops are given by "traveling wet plate artist" John A. Coffer, Dundee, Yates County. Mr. Hall draws his inspiration from Mr. Coffer and when interviewed he was wearing a T-shirt adorned with his image. Mr. Coffer also hosts his "Tintype Jamborees," which Mr. Hall has attended for the past two years.
Mr. Coffer's "Camp Tintype" is the longest running learning center for wet-plate collodion photography in the world.
"He lives pretty much off the grid," Mr. Hall said.
But associates operate a web site about Mr. Coffer. It notes that Camp Tintype "started in 1978, when John hitched a bay workhorse named Brownie up to a 19th century style darkroom wagon dubbed the 'Photographic Van' and crisscrossed the continent for seven years, plying his trade as an old time traveling portrait photographer."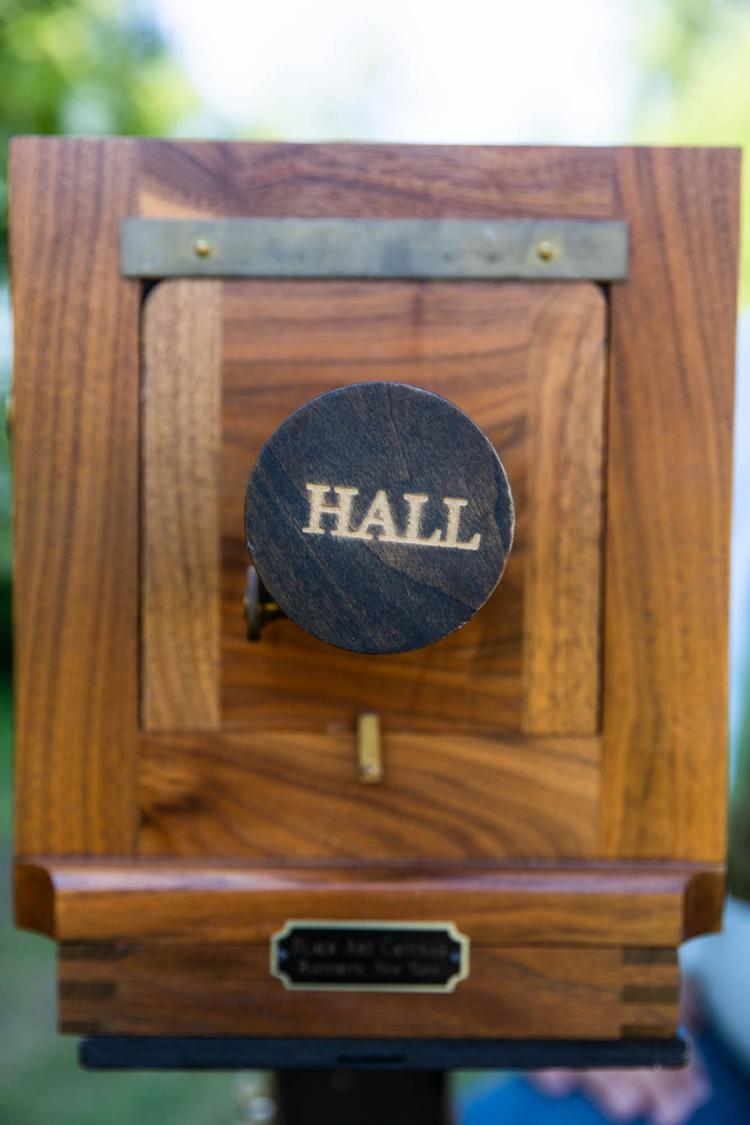 The camera that Mr. Hall uses is a period-correct device.
"A person made them in Rochester," he said. "He doesn't make them anymore."
The lens on his camera is original, dating back to the 1850s or '60s.
"One of the advantages of it being made out of wood is that if it breaks, it's relatively simple to fix," Mr. Hall said. "A lot of people doing this process aren't using a period camera like that."
To take a photo, Mr. Hall must estimate the time of exposure. On a sunny day late in August, he sat his subject in the shadows, just beyond direct sun, for a five-second exposure. There were no clicks or levers to get the exposure onto the wet plate. He just took off the lens cap for five seconds and afterward, put it back on.
"I got it pretty close on my first try, which doesn't always happen," he said later as he watched the image develop and settle into the aluminum plate.
"That's what makes it special," he said. "That's it. I'm not selling you a print package. This is the photo. With technology you can scan it and print it all you want, but it's never going to be the same."
After he takes the plate from the camera to his portable darkroom and develops it with chemicals, Mr. Hall rinses it and lets it soak for at least 20 minutes. The plates can be lightly colored by adding a chalky substance. Tin plates are then varnished. Glass plates get a black background.
The main chemical used in the process, collodion, is fickle.
"The older it gets, the more sensitive it is," Mr. Hall said. "Temperature will affect it. It's sensitive to a certain range of UV light. What worked yesterday might not work today in the same situation."
Why go through all the trouble?
"Nobody appreciates regular prints anymore," he said.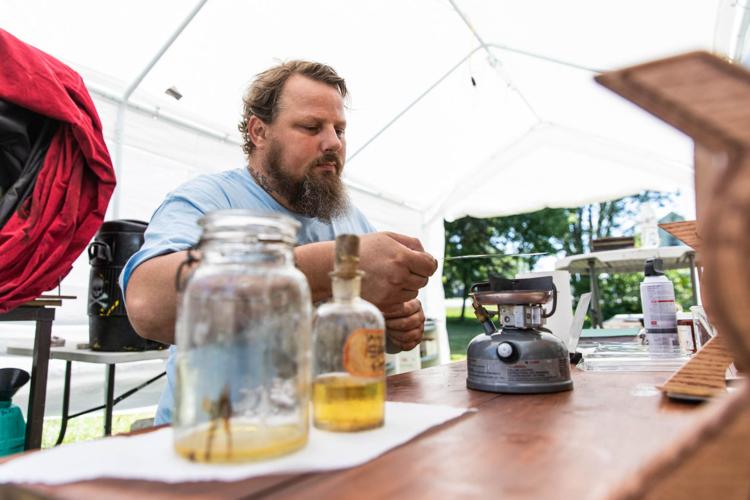 The wet plate creations, Mr. Hall said, can become family heirlooms. And more people are becoming skilled in the technique.
"When John Coffer wanted to learn how to do it in the 1970s and '80s, nobody was doing it," Mr. Hall said. "There wasn't the internet. He couldn't find any books. He learned how to do it and he taught others and those others taught more. Anybody who is doing it now can be traced back to him."
Mr. Hall said that there's even renewed interest in daguerreotype photography, which preceded wet collodion process. Daguerreotypes included the use of dangerous mercury vapor. Subjects had to remain motionless for a much longer time frame.
But Mr. Hall plans to stick with his "tintypes" and ambrotypes.
"I like this because there's that instant photography aspect almost," he said. "There it is. You don't have to wait for it."